Zyuden Sentai Kyoryuger
Talk

97
8,993pages on
this wiki
Protected

This page is currently protected from editing to deal with vandalism. To edit this article ask on the

talk page

to let an administrator make an edit for you.
| | |
| --- | --- |
| | This article is about a/an series entry (the 37th) in the Super Sentai series. |
Zyuden Sentai Kyoryuger[1][2][3] (獣電戦隊キョウリュウジャー, Jūden Sentai Kyōryūjā, translated as Electrobeast Squadron Dinosaurger) is the title of the 37th entry in the Super Sentai series.
It replaced Tokumei Sentai Go-Busters, and joined Kamen Rider Wizard as part of the Super Hero Time block on TV Asahi.
Story
"Dinosaurs plus humans. Crossing over billions of years to protect the world, History's strongest brave team has now appeared! You'll be surprised when you hear!"
―Narrator
Long ago, in the time of the dinosaurs, the Earth was invaded by an alien menace called Deboss, the leader of an invasion army. On the verge of extinction, some of the dinosaurs are transformed into ZyuDenRyu and seal Deboss and his forces in ice.
Now, in the modern world, the Deboss Army have thawed and now intend to commence the mass extinction of humanity while thawing their still frozen leader. But having prepared for it, Wise God Torin gathers the only people capable of helping the ZyuDenRyu stop the Deboss Army: "the People of the Strong Dragons" (強き竜の者, Tsuyoki Ryū no Mono), which has been shortened to "Kyoryugers"(キョウリュウジャー(強・竜・者), Kyōryūjā (Kyō・Ryū・Sha).[4]
Characters
Kyoryugers
Other Kyoryuger
Allies
Civilians
Villains
Arsenal
Transformation Devices/Sidearms
Multi-Use Devices
Individual Weapons and Team Sword
Kentrospiker ◆◆◆◆◆

Fang Shot ◆◆

Gabutyra Fang ◆
Parasa Shot ◆

Shield Lan Slasher ◆◆◆

Stego Shield ◆
Zactor Slasher ◆
Dricera Lance ◆
Communication Devices
Vehicles
Mecha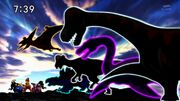 During the Deboss Army's centuries-long attack, twenty four prehistoric animals obtained the power to fight the invaders. Ten were the dinosaurs that became the Ten Great Zyudenryu. However, in the aftermath of the Army's defeat, half of the Ten Great Zyudenryu (Pteragordon, Ankydon, Bunpachy, Plezuon, and Bragigas) were lost, while the remaining members stood watch, should the Deboss Army return.
ZyuDenRyu System
Legend:◆ piloted mecha, ❖ aux mecha
Alternate Combination - Kyoryuzin Stegotchi-Zakutor ◆◆◆
Alternate Combination - Kyoryuzin Parasagun-Stegochi ◆◆◆
Alternate Combination - Kyoryuzin Western ◆◆◆
Alternate Combination - Kyoryuzin Macho ◆◆◆
Alternate Combination - Kyoryuzin Kung Fu ◆◆◆
Alternate Combination - Pteraiden-Oh Western ◆◆◆
Alternate Combination - Bakuretsu Kyoryuzin ❖◆◆
Episodes
Movies
Kamen Rider × Super Sentai × Space Sheriff: Super Hero Taisen Z (

仮面ライダー×スーパー戦隊×宇宙刑事 スーパーヒーロー大戦Z

Kamen Raidā × Sūpā Sentai × Uchū Keiji: Supā Hīrō Taisen Zetto

?

)
Video Games
Special DVD
Kyoryuger & Super Sentai: It's Getting Wild! Dinosaur Encyclopedia DVD
Main cast
Recurring allies
Suit actors
Songs
Opening theme
Ending theme
Notes
References