description to be added
Character History
Juuzaiann Braidy (ジューザ星人ブライディ, Jūza Seijin Buraidi, 6): Not actually Alienizer, but is made to look like one by Kersus due to his malice for cars, which played a part in his family's demise. He is enlarged by Rainian Agent Abrella and is brought in by Dekaranger Robo. Though he did wreck public property, his sentencing wouldn't be as severe due to the recent events that caused it.
Personality
to be added
Modus and Arsenal
Notes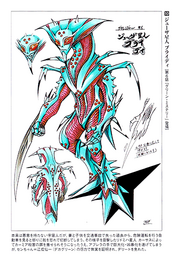 Portrayal
Behind the Scenes
His home planet and his name are named after Friday the 13th franchise.
Conception
See Also
References
Ad blocker interference detected!
Wikia is a free-to-use site that makes money from advertising. We have a modified experience for viewers using ad blockers

Wikia is not accessible if you've made further modifications. Remove the custom ad blocker rule(s) and the page will load as expected.