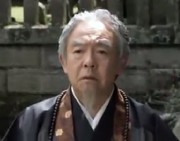 Jokan is the chief priest of Tengen Temple, the family temple of the Shiba line, who has the custody of the unfinished Secret Analysis Case Inromaru. He tends to Takeru Shiba after being poisoned by Ayakashi Gozunagumo.
See also
Ad blocker interference detected!
Wikia is a free-to-use site that makes money from advertising. We have a modified experience for viewers using ad blockers

Wikia is not accessible if you've made further modifications. Remove the custom ad blocker rule(s) and the page will load as expected.