A magnet (磁石, jishaku) Savage Land Barbaric Machine Beast sent by Yogostein with the power of magnetism, able to take his opponents' weapons and use them. Though defeated in the first fight, Jishaku Banki is upgraded to Denjishaku Banki (デンジシャクバンキ, Denjishaku Banki), becoming an electromagnet (電磁石, denjishaku) with greater power with his Fleming's Law attack until Hant destroys his power source. He is the first to be scrapped by Engine-O Birca.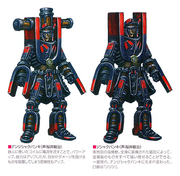 Ad blocker interference detected!
Wikia is a free-to-use site that makes money from advertising. We have a modified experience for viewers using ad blockers

Wikia is not accessible if you've made further modifications. Remove the custom ad blocker rule(s) and the page will load as expected.