"Hyper Force! Yellow! Ready! Power Up!"

―Morphing call
Jack Dealgoode Thomas is HyperForce Yellow.[1]
Character History
Jack was a "beat cop" who was asked by Senior Commander Varge to do a lecture at Time Force Academy. He was very appalled at the idea of talking to cadets about his job and wanted to find any excuse to get out of it. He witnessed a young female sneaking out of the evidence room with a box from a window and attempted to hide to observe and then tail the suspicious individual.
HyperForce Yellow
Arsenal
Zords
Appearances: Hyper Force Episodes 1-25  

Personality
RPG Bio: Time Force Officer, No Nonsense, Wise.
Behind the Scenes
Portrayal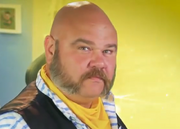 Jack is portrayed by Paul Schrier, better known for portraying Farkas "Bulk" Bulkmeier from the original Mighty Morphin Power Rangers through various suceeding series.
Notes
Relations
(TBA)
(TBA)
(TBA)
(TBA)
(TBA)
Reference