Ad blocker interference detected!
Wikia is a free-to-use site that makes money from advertising. We have a modified experience for viewers using ad blockers

Wikia is not accessible if you've made further modifications. Remove the custom ad blocker rule(s) and the page will load as expected.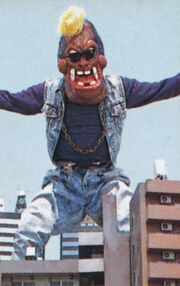 description to be added
Character History
Bowzock's best wrestler, also described as the Bowzock's dumbest Gorotsuki. He is one of the regulars at the Baribarian's bar and typically seen drinking or alongside the other Bowzock as they scheme for Earth's destruction.
Randomly picked out to undertake Instructor Ritchihiker's consultation services, he is used in a scheme to eliminate the Carrangers by having him being used to show Ritchihiker's abilities to improve the Bowzock into being better members of society, trick the Carrangers into lowering their guard, and ultimately leading to Ritchihiker to poison them. Signalman (already aware of Ritchihiker's true nature) stop this, exposing the scheme, as Jetton fights the Carrangers, until they use the Auto Blasters on him. Enlarged by eating imo-youkan, Jetton battles Sirender and RV Robo until the latter uses the Gekisou Slice on him.
Personality
to be added
Modus and Arsenal
Notes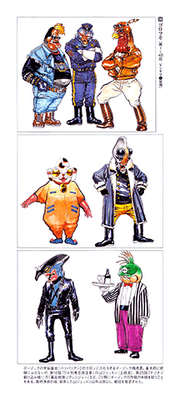 Portrayal
Behind the Scenes
JJ Jetton is the only member of the typical Gorotsuki bar members to have an actual name, being the only one used in a Bowzock scheme (four others fought as member of SS Pamaan's Boso Sentai Zokuranger); he is also the only bar regular to be killed in series (all the others, from his typical patrons to the Bowzock leaders, survived the season)
His motif is a Hippopotamus
References