| | |
| --- | --- |
| | This article is about a/an production company in the Super Sentai series. |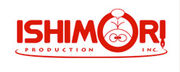 Ishimori Productions, also known as Ishimori Pro, is a manga and entertainment production company founded in 1968 by the late Shotaro Ishinomori. It produces television shows such as the long running live action Kamen Rider series and anime such as the Cyborg 009 franchise. It also distributes original and re-published manga based on Ishinomori's properties. The company's name is based on Ishinomori's former pen name, Shotaro Ishimori.
The company is family owned and operated with Akira Onodera, Ishinomori's second son, currently serving as its executive producer and president. Its properties and holdings in capital produce roughly ¥795 million annually ($6,660,971 USD, £4,361,091 BP)
The company is responsible for the creation of Super Sentai as it was the production studio behind Himitsu Sentai Gorenger and J.A.K.Q. Dengekitai, the first two entries of the franchise in 1975 and 1977.
In 2007, the company closed its Ishimori Entertainment subsidiary, folding it back into the main branch while the entertainment company Bandai gained a share of the company's holdings, forming the "new" Ishimori Productions.
External Links
*Note: Despite the English and French options on the site, both translated variants are defunct and non-operational due to the closure of Ishimori Entertainment, an international licensing subsidiary of the main company.