Ikusazure (イクサズレ, Ikusazure, 38): Ikusazure is an Ayakashi armed with the Chōhazure Engaijū (帳外炎鎧銃, Peasant Fiery-Armored Gun) who is the commander of the Nanashi Gun Unit (ナナシ鉄砲隊, Nanashi Teppōtai) and the Ōnanashi Ōzutsu Unit (大ナナシ大筒隊, Ōnanashi Ōzutsutai) formed by Shitari. He is the basis of the Tsurubebi (釣瓶火) of Japanese myth.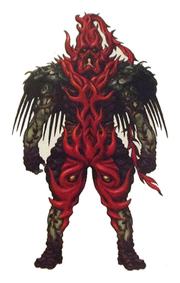 See Also
Ad blocker interference detected!
Wikia is a free-to-use site that makes money from advertising. We have a modified experience for viewers using ad blockers

Wikia is not accessible if you've made further modifications. Remove the custom ad blocker rule(s) and the page will load as expected.