Mei On A Silver Platter' (メイを食べたい, Mei o Tabetai) is the twenty-seventh episode of Kyoryu Sentai Zyuranger.
Synopsis
When Bandora brings back an ancient flower-manipulating enemy of the Lithia Tribe, Mei must do what it takes to stop it, even at the cost of her life.
Plot
Mei finds the flower of Lyciam, symbol of her tribe. As DoraGuzzler's lethal flowers start to assault people, Mei decides to follow the legend of princess Yui, who sacrificed her life to save the people of Lycia tribe.
Cast
Notes
DVD releases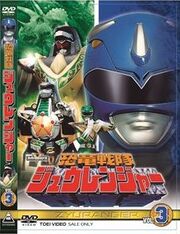 References
See Also
Ad blocker interference detected!
Wikia is a free-to-use site that makes money from advertising. We have a modified experience for viewers using ad blockers

Wikia is not accessible if you've made further modifications. Remove the custom ad blocker rule(s) and the page will load as expected.