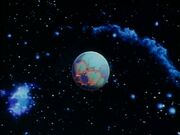 Hummard was the home planet of Sion, who ultimately became its sole survivor when it was destroyed in a war around the year 2984, having been sent off from the doomed planet as an infant before eventually arriving on Earth where he would eventually become TimeGreen of the Timerangers. Case File 4: The Hostage is an Alien
Ad blocker interference detected!
Wikia is a free-to-use site that makes money from advertising. We have a modified experience for viewers using ad blockers

Wikia is not accessible if you've made further modifications. Remove the custom ad blocker rule(s) and the page will load as expected.