Hound Shadow (ハウンドシャドー, Haundo Shadō) is a Shadow Monster that appears in the ToQger's summer movie, Ressha Sentai ToQger: The Movie - Galaxy Line SOS. He is the servant of Count Nair.[1]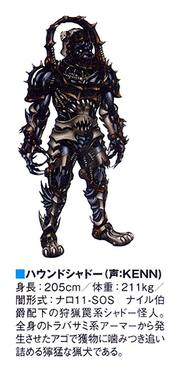 Hound Shadow
ID Number: Na Ro 11-SOS
Station Building: N/A
Motif: Hound /Bear Trap
Height: 205 cm
Weight: 211 kg
Nair Hounder
By combining with Count Nair, they turn into the gigantic Nair Hounder.
ID Number: Na I Na Ro 100048-SOS
Height: 92.8 m
Weight: 4356 t
Notes
He is the first (and so far only) Shadow Monster to be based on an animal rather than an object. 
Behind the scenes
Portrayal
External Links
References
Ad blocker interference detected!
Wikia is a free-to-use site that makes money from advertising. We have a modified experience for viewers using ad blockers

Wikia is not accessible if you've made further modifications. Remove the custom ad blocker rule(s) and the page will load as expected.