Prisoner #30170, Hitman Mad Blast : A catfish-like hitman who likes killing, taking items from his victims as mementos. Sealed for 15 years with not enough proof to confirm his crimes, he was the one who murdered Yuuri's family. Though Yuuri attempted to kill him, her real objective was to learn the identity of the one who paid him to commit the act, who was Don Dolnero. Brought in by TimeRobo Beta/TimeJet Gamma/TimeRobo Alpha after Yuuri gained her father's bracelet back from him.
Notes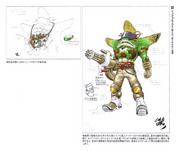 See also
Ad blocker interference detected!
Wikia is a free-to-use site that makes money from advertising. We have a modified experience for viewers using ad blockers

Wikia is not accessible if you've made further modifications. Remove the custom ad blocker rule(s) and the page will load as expected.