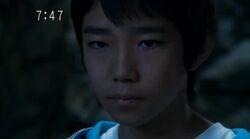 Hiro Sakakibara (32, 33) is a young boy who has the ability to produce Mojikara that attracts wild Origami. Being of the Sakakibara clan, Hiro is entrusted with guarding the sealed Ushi Origami. He instead attempts to produce a Secret Disk to control Ushi Origami, something his father attempted in vain.
Hiro later delivered the Secret Loading Gun Mougyu Bazooka, a powerful weapon he created, powered by the Ushi Origami to the Shiba House. Ji delivered it to Takeru on the battlefield.
See Also
Ad blocker interference detected!
Wikia is a free-to-use site that makes money from advertising. We have a modified experience for viewers using ad blockers

Wikia is not accessible if you've made further modifications. Remove the custom ad blocker rule(s) and the page will load as expected.