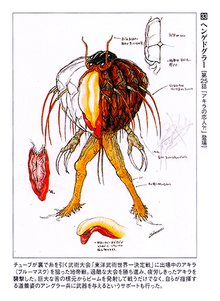 Henge Doggler (ヘンゲドグラー, Hengedogurā, 25): A shape-shifting monster used to lure Akira to a martial arts competition. When the trap is exposed, Blue Mask defeats this monster. After being destroyed by the Shot Bomber, this monster was destroyed by Galaxy Robo.
Notes
"Henge" means "Transform", which refers to his shape-shifting hability.
Ad blocker interference detected!
Wikia is a free-to-use site that makes money from advertising. We have a modified experience for viewers using ad blockers

Wikia is not accessible if you've made further modifications. Remove the custom ad blocker rule(s) and the page will load as expected.