Space Bosozuku Helmedor (ヘルメドー, Herumedō, Megaranger vs. Carranger)
Character History
He is an alien who wanted to build a motorcycle racing ramp thought the Milky Way, a scheme similar to Exhaus. He used Picot to grant his wish for a planet destroying laser cannon which he used to destroy the planet Jail, the prison planet where he was locked up for 200 years. He was eventually taken under Shibolena control via her magic kiss. Killed by RV Robo.
Personality
to be added
Modus and Arsenal
Notes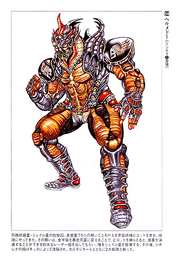 Portrayal
Behind the Scenes
See also
References
Ad blocker interference detected!
Wikia is a free-to-use site that makes money from advertising. We have a modified experience for viewers using ad blockers

Wikia is not accessible if you've made further modifications. Remove the custom ad blocker rule(s) and the page will load as expected.