description to be added
Character History
A bat/grim reaper designed Psycho-Nezilar who was created to force the core Megaranger to expose themselves in their High School, which they did. He managed to turn the heroes' schoolmates and friends against them causing them to lose the will to fight. During a later battle at the warehouse the Megaranger fled to, though Hell Nezilar managed to overpower MegaSilver who was protecting his teammates, once he helped the five regain their will to fight they were able to transform and ended up fighting Hell Nezilar, defeating him with the Super Drill Sniper Custom. Killed by Mega Voyager.
Personality
to be added
Modus and Arsenal
Notes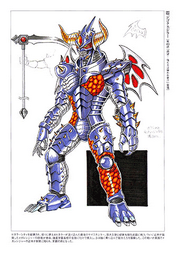 Portrayal
Conception
Behind the Scenes
See Also
References
Ad blocker interference detected!
Wikia is a free-to-use site that makes money from advertising. We have a modified experience for viewers using ad blockers

Wikia is not accessible if you've made further modifications. Remove the custom ad blocker rule(s) and the page will load as expected.