Hell's Gate Prisoner Jagul (ヘルズゲート囚・ジャグル, Heruzu Gēto Shū Jaguru, 28, 38): He was released by Gien to locate the Time Pulse and enlarge it with a machine. Wielding a nasty firearm, Jagul wounded TimeRed, revealing the man's true identity to his father and Naoto Takizawa. TimeRed managed to wound Jagul long enough for him to be brought in by the Voltech Bazooka. Before being recaptured, Jagul succeeded in maintaining the Time Pulse that would allow V-Rex to emerge.
Jagul is one of multiple Londerz Prisoners dreamed by Sion to have been revived to make Activist of Spirit Glokun's movie depicting the end of the Timerangers.Case File 38: Good Night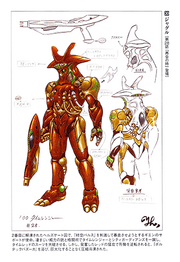 See Also
Ad blocker interference detected!
Wikia is a free-to-use site that makes money from advertising. We have a modified experience for viewers using ad blockers

Wikia is not accessible if you've made further modifications. Remove the custom ad blocker rule(s) and the page will load as expected.