Heavy Industrial Machine Million Missile
Talk

0
Share

description to be added
Overview
Heavy Industrial Machine Million Missile (, Kaijūki Mirion Misairu, 34, 48-49): Piloted by Gineka. Destroyed by Dekawing Cannon. Later rebuilt and piloted by Jellyfis. Destroyed for good by Super Dekaranger Robo.
History
To be added
Additional Formations
Notes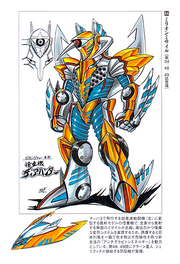 See Also
References
Ad blocker interference detected!
Wikia is a free-to-use site that makes money from advertising. We have a modified experience for viewers using ad blockers

Wikia is not accessible if you've made further modifications. Remove the custom ad blocker rule(s) and the page will load as expected.