description to be added
Character History
Heatwave Hood (陽炎頭巾, Kagerō Zukin, 23): A Gorma who devoured Kujaku and Daigo of the Heavenly Phantom Star, using them as hostages. Trapped and being baked alive within him, instead of giving up, Daigo decided to literally punch his way out. Killed by Dairen'oh.
Personality
to be added
Modus and Arsenal
Gallery
Notes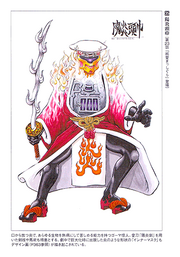 Portrayal
Behind the Scenes
See Also
References
Ad blocker interference detected!
Wikia is a free-to-use site that makes money from advertising. We have a modified experience for viewers using ad blockers

Wikia is not accessible if you've made further modifications. Remove the custom ad blocker rule(s) and the page will load as expected.