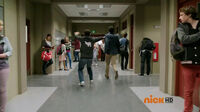 Harwood County High School (acronym: HCH) is a school in Harwood County. The Mega Rangers attend this school. The name was shown in episode 3, Going Viral. The only known employee is Mr. Burley; no other teachers and even the school's principal are mentioned at all.
The school occasionally serves as a secondary "Command Center" for the Mega Rangers, as seen in episodes like The Grass is Always Greener... or Bluer.

Notes
It is very similar to Angel Grove High School in Mighty Morphin Power Rangers.
Exterior shots for the school were filmed at Templeton Secondary School in Vancouver, Canada.