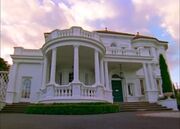 The Hartford Mansion is the home of the Hartford family and the secret base of the Overdrive Rangers. It was attacked by Flurious and his Chillers in "Crown and Punishment", but was rearranged before the Rangers faced off to destroy Flurious once and for all.
The mansion is only the exterior of the Ranger's base, as their actual "base" is underground, accessible via fire pole or elevator.
See Also
Ad blocker interference detected!
Wikia is a free-to-use site that makes money from advertising. We have a modified experience for viewers using ad blockers

Wikia is not accessible if you've made further modifications. Remove the custom ad blocker rule(s) and the page will load as expected.