Happouzu (ハッポウズ, Happōzu, 32-33): Happouzu is an Ayakashi armed with the Shinen Ryōhotō (深淵稜堡刀, Abyss Bastion Sword) who can shoot fireballs from his body. Serving under Akumaro, he is sent to acquire the Ushi Origami by any means. When he fails, Happouzu decides to destroy the Origami instead. He is ultimately destroyed by MouGyuuDaiOh. His design is based on the Raijū (雷獣) of Japanese myth.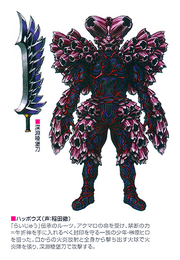 See Also
Ad blocker interference detected!
Wikia is a free-to-use site that makes money from advertising. We have a modified experience for viewers using ad blockers

Wikia is not accessible if you've made further modifications. Remove the custom ad blocker rule(s) and the page will load as expected.