Flowery Kunoichi Team
Talk

0
9,878pages on
this wiki

Flowery Kunoichi Team (花のくノ一組, Hana no Kunoichi Gumi) (15, 16 & 20-53): Gasha Skull's personal ninja team he created from cats. They are cruel, skilled female ninjas armed with Ninja Magic, and are capable of disguise. Also known as the Hanarangers (ハナレンジャー, Hanarenjā), due to the members being named after various flowers. The Three God Generals turned them back into cats during the finale.
Flowery Kunoichi Team
Members
30 Sentai Encyclopedia
The Flowery Kunoichi Team is acknowledged as an Evil Sentai (悪の戦隊, Aku no Sentai?), in the 30 Sentai Encyclopedia Special Files entry shown at the end of Task 45 of GoGo Sentai Boukenger.
Notes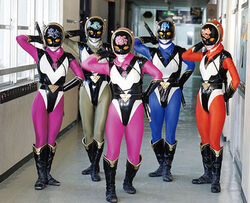 The Flowery Kunoichi team is the first Evil Sentai team that wasn't just a fake copy of the Sentai team they fought against.
They are also the first Sentai team to be cat-based, This being followed by Juken Sentai Gekiranger (the main three). Coincidentally, both have members named Ran.
This is the first all-female Sentai team.
This team has two actresses who have been Sentai members on other teams:
See Also