description to be added
Character History
Worm (ワーム, Wāmu, 3): A huge, eight-headed worm-like creature (similar to Orochi) that could travel underground and attack on command by a High Zobil to eat humans. But once its tamer is killed, the Worm surfaces to run amok until it was killed by MagiPhoenix and MagiDragon. When Nai & Mea were reading from the Book of Prophecy, Worm was listed as "Worm the soil eater".
Personality
to be added
Modus and Arsenal
Notes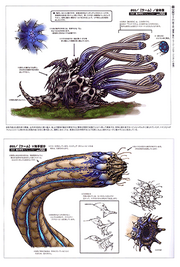 Portrayal
Behind the Scenes
Appearances
See Also
Ad blocker interference detected!
Wikia is a free-to-use site that makes money from advertising. We have a modified experience for viewers using ad blockers

Wikia is not accessible if you've made further modifications. Remove the custom ad blocker rule(s) and the page will load as expected.