Ad blocker interference detected!
Wikia is a free-to-use site that makes money from advertising. We have a modified experience for viewers using ad blockers

Wikia is not accessible if you've made further modifications. Remove the custom ad blocker rule(s) and the page will load as expected.

description to be added
Character History
Spider (スパイダー, Supaidā, 23-24): Belbireji's helper, it eats the souls the Incubus obtained for it to perform its "Soul Bomb" attack and so that the souls would be used to make a large bomb that Belbireji would then launch and explode into fireworks that would then destroy the city. Spider could also shoot poisonous needles from its mouth and could produce webbing to create webs and streams of webbing to swing around on. Spider was killed by a recovered Tsubasa when Belbireji shoved the monster in front of himself to avoid getting hit by Tsubasa.
In Mahou Sentai Magiranger: Revealed! The Gold Grip Phone's Super Magic, Kai accidentally turned himself into a Spider with the Golden GripPhone, only to be reversed by the Silver MagiPhone after he realized the error of his lies.
When Nai & Mea were reading from the Book of Prophecy, Spider was listed as "Spider the Soul-Eater."
Personality
to be added
Modus and Arsenal
Behind the Scenes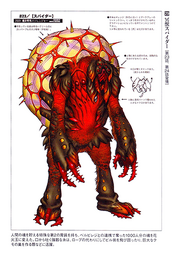 Portrayal
Hades Beast Spider is voiced by Atsushi Hashimoto in Mahou Sentai Magiranger: Revealed! The Gold Grip Phone's Super Magic. His suit actor is unknown.
Notes
to be added
Appearances
See also