Demon Gate Guard Gargoyle (ガーゴイル, Masekigoei Gāgoiru, 17-18): A giant Hades Beast perched on the Hades Gate and flew down from it and helped Branken in the unsealing of the Hades Gate, as well as protect it.
Character History
Killed by MagiDragon. When Nai & Mea were reading from the Book of Prophecy, Gargoyle was listed as "Gargoyle, the tough watcher of the gates".
Personality
to be added
Powers and Abilities
Arsenal
Behind the Scenes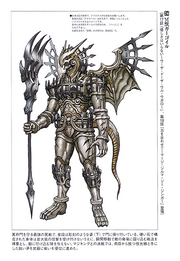 Portrayal
Notes
Appearances
See Also
Ad blocker interference detected!
Wikia is a free-to-use site that makes money from advertising. We have a modified experience for viewers using ad blockers

Wikia is not accessible if you've made further modifications. Remove the custom ad blocker rule(s) and the page will load as expected.