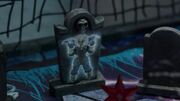 "This is Hacktrack over and out!"

―Hacktrack's final words before his death.
"I've fallen and I can't get up!"
―Hacktrack
Hacktrack is a satellite dish-themed
Galaxy Warrior
sent to steal
Sarah
's cloning device. He steals it and uses it to clone
Galvanax
. He is destroyed by the
Astro
Ninja Steel Megazord.
Character History
Hacktrack is sent to steal Sarah's cloning device, which he does steal. He then uses it to make 8 giant clones of Galvanax. He is destroyed by the 5 ranger slash. He is enlarged and destroyed by the Astro Ninja Steel Megazord..
Personality
Hacktrack is quite a childish and selfish monster, wanting technonogy for himself. Due to this, he fills himself with a virus. He is also very loyal to Galvanax.
Arsenal
Hacktrack wields a antennae dish weapon which can absorb any technology, including a virus. He can also use it to launch bolts of electricity.
Behind the Scenes
Portrayal
Notes
He speaks in a muffled voice and repeats words.
See Also
References