description to be added
Character History
Bowzock's best festival coordinator. He had Deputy Leader Zelmoda kidnap Ichitarou Tenma for the Bowzock Festival, using a conductor for the "evil-power lightning" so they could suck the evil (& life) out of the boy. However, due to a miscalculation, it was Instructor Ritchihiker who was hit by the lightning, which transformed him and gave him more power. Wasshoishoi was killed by Sirender.
Personality
to be added
Modus and Arsenal
Notes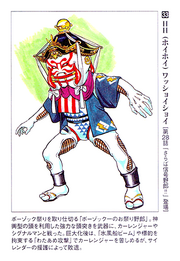 Portrayal
HH Wasshoishoi was voiced by Eken Mine in his only Sentai role; he is most notable as portraying Bat Man, the second-ever Kaijin in the original Kamen Rider series; among many other KR kaijin.
Behind the Scenes
His name is based on the Wasshoi ((わっしょい), a cry uttered by the participants in Matsuri (Japanese Festivals) during the shouldering of a Mikoshi (portable shrines).
References