description to be added
Character History
Bowzock's best pitcher. He resembled a baseball. Kyousuke Jinnai was eventually able to hit one of his pitches, a curve ball, after some training. He could throw baseball shaped lasers in battle, yet he was only able to do this after being empowered by a kiss from Beauty Zonnette. Destroyed by RV Robo.
Personality
to be added
Modus and Arsenal
Notes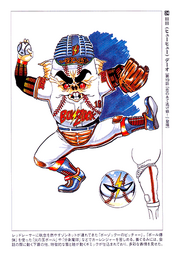 Portrayal
Behind the Scenes
HH Deo was named after Hyuuma Hoshi, the protagonist of the baseball anime Star of the Giants, as well after Japanese baseball pitcher Hideo Nomo, who became the first Japanese player to play for the US's Major League Baseball
His motifs are a baseball player and a baseball.
See Also
References