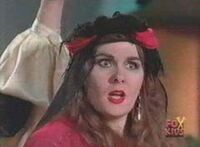 Bulk and Skull hired her so they could use her special Gypsy powers to find the Power Rangers and their secret identities. It seemed she actually did have Gypsy powers, as everywhere they went they ran into the rangers unmorphed. She was fired because unfortunately, when they ran into the whole group, Ernie was holding a picture of the Power Rangers, making it seem like a false lead.
Ad blocker interference detected!
Wikia is a free-to-use site that makes money from advertising. We have a modified experience for viewers using ad blockers

Wikia is not accessible if you've made further modifications. Remove the custom ad blocker rule(s) and the page will load as expected.