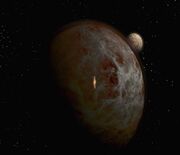 The planet Gwinnet is home of the arms dealer Runtus and the momentary resting place of Kendrix Morgan's Quasar Saber after her death. Maya and the other Galaxy Rangers are led to the planet after Kendrix's spirit visits Maya in a dream, requesting that she find and protect her Quasar Saber. Protect the Quasar Saber
Ad blocker interference detected!
Wikia is a free-to-use site that makes money from advertising. We have a modified experience for viewers using ad blockers

Wikia is not accessible if you've made further modifications. Remove the custom ad blocker rule(s) and the page will load as expected.