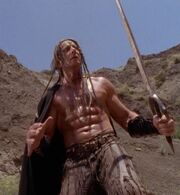 The Guardian of the Galaxy Book was the alien protector of the ancient text, and searched for it for centuries after it was stolen. Eventually he tracked it to Terra Venture, where he attempted to retrieve it, only to be apprehended by colony security. He subsequently revealed his identity and true intentions to Kai Chen, and further revealed that Terra Venture's environment was slowly killing him. He and Kai managed to acquire the Galaxy Book, only for it to fall into the hands of Deviot, who intended to use it to acquire greater power. The Guardian attempted to stop him, but between Deviot's power and his own weakened condition he was defeated, costing him the last of his strength. He then passed his role to Kai before dissolving into energy.
Ad blocker interference detected!
Wikia is a free-to-use site that makes money from advertising. We have a modified experience for viewers using ad blockers

Wikia is not accessible if you've made further modifications. Remove the custom ad blocker rule(s) and the page will load as expected.