Great Insarn (グレートインサーン, Gurēto Insān) is Insarn's giant robot that she uses to battle the Gokaigers.
Like her uniform, Great Insarn is colored green. The torso is designed to resemble her face. Great Insarn's arsenal consists of energy beam attacks fired from its chest and a protective barrier.
Literally disarmed by GokaiOh using the Greater Power of the Changemen and the Maskmen before being destroyed by GokaiOh's Gokai Samurai Slash. The Greatest Treasure in the Universe (episode)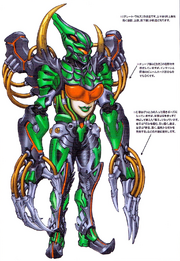 Cockpit
See Also
External links
Ad blocker interference detected!
Wikia is a free-to-use site that makes money from advertising. We have a modified experience for viewers using ad blockers

Wikia is not accessible if you've made further modifications. Remove the custom ad blocker rule(s) and the page will load as expected.