description to be added
Overview
Great Evil Dragon Zard (大邪竜ザルド, Daijaryū Zarudo, 10-11): Ryuuwon was onboard Zard twice. It has immense strength and can fire Gatling gun blasts and chains that can wrap around the enemy. The first time, where he simply rode and Zard was piloted by a Jaryuu, he and Gajah defeated DaiBouken. The second time, Ryuuwon personally piloted Zard himself, but Zard was terminated by Super DaiBouken, nearly taking Ryuuwon with it. Zard's name is a pun on Lizard.
History
Notes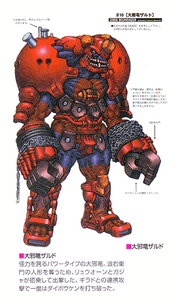 See Also
References
Ad blocker interference detected!
Wikia is a free-to-use site that makes money from advertising. We have a modified experience for viewers using ad blockers

Wikia is not accessible if you've made further modifications. Remove the custom ad blocker rule(s) and the page will load as expected.