Great Evil Dragon Dold (大邪竜ドルド, Daijaryū Dorudo?, 1-2)
Character History
In the first two Tasks, Dold swallowed Arch Priest Gajah after Giant God Gordom was destroyed. It was created by Creator King Ryuuwon and manned by three Jaryuu. When Dold was defeated by DaiBouken's Adventure Drive, Ryuuwon activated a bomb on Dold to blow up DaiBouken and kill the Boukengers, but the team kicked Dold away before he blew up, taking all three Jaryuu with him.
Personality
to be added
Modus and Arsenal
Notes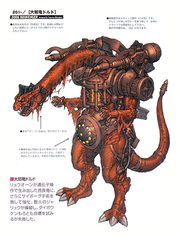 Portrayal
Behind the Scenes
See also
Ad blocker interference detected!
Wikia is a free-to-use site that makes money from advertising. We have a modified experience for viewers using ad blockers

Wikia is not accessible if you've made further modifications. Remove the custom ad blocker rule(s) and the page will load as expected.