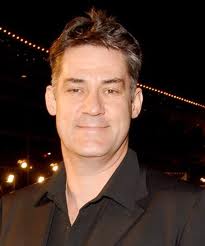 Graeme Revell
is known for his music work on
Mighty Morphin Power Rangers: The Movie
. After the movie, he did not compose music for
Turbo: A Power Rangers Movie
, leaving one of the show's producers
Shuki Levy
to do the music score for
it ''
along with another composer addition '
Glenn Scott Lacey
to do additional music provided.
Career, Life, and Credits
Revell attended Auckland Grammar School, where he finished his final year in 7A. He is relatively unknown to most New Zealanders, despite having worked in the film business for 30 years, compared to fellow Hollywood New Zealanders such as Anna Paquin, Sam Neil and Zoe Bell.
Revell is a classically trained pianist and French horn player, but also graduated from theUniversity of Auckland with degrees in economics and political science. He worked as a regional planner in Australia and Indonesia and as an orderly in an Australian psychiatric hospital. Later, he was a founding member of the industrial music band SPK, playing keyboards andpercussion. The SPK single "In Flagrante Delicto" was the basis for his first film score, for Dead Calm, which won him an Australian Film Industry award.
His musical style is very much electronic and computer-based in nature, yet often utilizes classical instruments or entire arrangements for certain pieces, much like his contemporary counterparts Hans Zimmer and Mark Isham. His orchestral scores throughout the years of his career changes, from Bernard Herrmann-like to Ennio Morricone-like. His music is often re-used from movie to movie and in more recent times he has collaborated with other artists on their albums. After the success of his soundtrack on Red Planet where he used the voice of French singer Emma Shapplin to back up and often lead his score, he collaborated with her on her own album Etterna, producing all of her songs. He has recently been interviewed for the independent documentary Finding Kraftland.
He has been assisted in sound design by dark ambient composer Lustmord.[1]
Credited soundtracks
Film
Television and video