Genju Cetus-Fist Gouyu is a Genjuken warrior who serves Sanyo.
Character History
Sanyo's Genshi, a master of the Genju Cetus-Fist (幻獣ケイトス拳, Genjū Keitosuken) style which uses sound-based attacks, thus using small talk while fighting an opponent to effectively use his power. He is the first Genjuken user the Gekirangers face. He nearly defeats Beast-Fist Giant God SaiDaiOh, Beast-Fist Giant GekiTohja Wolf, and Herculean Giant GekiFire until GekiElephantFire begins to damage him, although he survives the fight with them thanks to Sanyo's aid, who easily defeats Gekiranger's mechas. He appears again to fight Gou Fukami to protect Rio from him, only to be instantly destroyed in mere seconds by Gou using the Heaven and Earth Disaster Strike.
Personality
to be added
Modus and Arsenal
Cetus Gengi
Thunder-Boom Wave (拷雷震, Gōraishin)
Notes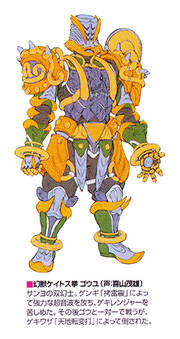 Portrayal
Behind the Scenes
His name is based on Hé Yŭ (合窳) of the Shan Hai Jing, and motif is the Boar of the Earthly Branches.
See Also
References
Ad blocker interference detected!
Wikia is a free-to-use site that makes money from advertising. We have a modified experience for viewers using ad blockers

Wikia is not accessible if you've made further modifications. Remove the custom ad blocker rule(s) and the page will load as expected.