A food critic who went insane and was sentenced for 180 years, though he was released by Gien. Armed with a fork-staff and was able to shoot fire from his mouth, he attacked people whose cooking he found horrible, also burning their eating establishments to the ground. When he burned down the noodle shop run by Sugara, Domon took it personally. Using the noodles he gave him, named Tak, believed to be from the future, Domon uses it to beat Vincent in a bet. Though losing, Vincent refused to be frozen willingly and enlarged. Though he took advantage of civilian hostages, TimeRobo Beta managed to knock him out of the way before TimeRobo Alpha brought him into custody.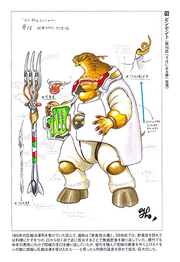 Gallery
See Also
Ad blocker interference detected!
Wikia is a free-to-use site that makes money from advertising. We have a modified experience for viewers using ad blockers

Wikia is not accessible if you've made further modifications. Remove the custom ad blocker rule(s) and the page will load as expected.