Magis
Talk

0
8,976pages on
this wiki
Magis (マジス, Majisu), also known as Gosei Green (ゴセイグリーン, Gosei Gurīn), was a member of the Seaick Tribe, the former partner of Hyde (GoseiBlue), and the second Gosei Angel of the sea.
Biography
Sometime prior to episode 1 (as seen in episode 10), it was revealed that Magis had saved Hyde's life by transforming into Gosei Green and fighting Kurasunigo of 5000°C; but although he saved Hyde's life, unfortunately he paid the price of his own life. In Episode 10, it was also revealed that Hyde will leave flowers at the last place where Magis died in his arms.
Unlike other dead heroes who were replaced, Magis did not fight in the Great Legend War. In-universe, its possible he did not fight because he did not really fight on Earth, and his true home world was the Gosei World.
Gosei Green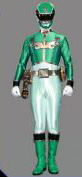 Magis presumably transformed into Gosei Green by putting a Gosei Green Change Card in his Tensouder. Gosei Green is a Seaick Tribe power wielder with the motif of an unidentified (presumably aquatic) creature. It is assumed he had a crab motif due to his partner sensing Magis's aura in a crab in Epic Zero.
Arsenal
Gosei Card Buckle
Gosei Blaster
Mecha
Gosei Green presumably had his own Headder. As the Goseigers fulfilled the legend of the "five stars" by acquiring the Gosei Machines, Gosei Green never had his own Gosei Machine.
Behind the scenes
Portrayal
Magis is portrayed by Yousuke Ito (伊藤 陽佑, Itō Yōsuke?), who previously portrayed Sen'ichi "Sen-chan" Enari/DekaGreen in Tokusou Sentai Dekaranger. As Gosei Green, his suit actor was Yasuhiro Takeuchi (竹内 康博, Takeuchi Yasuhiro?), who also served as suit actor for Gosei Red.
Notes
Despite his helmet being seen only in an extreme "long shot" in the show, many fans assume the Gosei Green costume is actually the Gosei Blue costume, just turned green through a color filter.
His death is the reason why Hyde is the only Seaick Tribe member of the Goseigers.