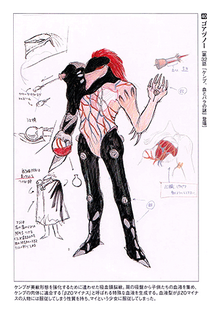 description to be added
Character History
A monster created by Kemp from his own blood in order to gather children's blood using its tendril-like blood suckers and use it to create β ZO Negative blood-type (Kemp's blood-type whom is in fact very rare) to powerup his Beauty Beast form. After absorbing some of Mai's blood this monster stopped attacking until Kemp take it away with him. Eventually, Kemp discovers Mai shares his same blood-type (Gore Zuno mistake Kemp with Mai due to the two sharing the same blood-type) so he decides not to create β ZO Negative type blood anymore and suck Mai's blood from her body instead. After being beaten by Red Falcon and blasted to bits by the Bimotion Buster, this monster was reformed by Gash and destroyed by the Live Robo through the Strong Crashdown.
Personality
to be added
Modus and Arsenal
Notes
Portrayal
Behind the Scenes
References
Ad blocker interference detected!
Wikia is a free-to-use site that makes money from advertising. We have a modified experience for viewers using ad blockers

Wikia is not accessible if you've made further modifications. Remove the custom ad blocker rule(s) and the page will load as expected.