Ahim de Famille
Talk

4
9,871pages on
this wiki
"Gokai Pink!"
Ahim de Famille (アイム・ド・ファミーユ, Aimu do Famīyu?) is Gokai Pink of the Gokaigers. She is the last remaining royal of the planet Famille.
Biography
Early life
She was once the Princess of the planet Famille, the planet and her family shared names. After the planet was destroyed by Space Empire Zangyack, the Empire believed that she was killed along with her family, she was actually picked up by Captain Marvelous (Gokai Red) in space. Ep. 8: Little Spy Tactics Out of the five, she was the newest, with Joe Gibken (Gokai Blue), Luka Millfy (Gokai Yellow) and Don Dogoier (Gokai Green) already being there when she joined the crew of the Gokai Galleon. Ep. 12: The Guaranteed Showy Samurai

Super Hero Taisen
to be added
Go-Busters vs. Gokaiger
to be added
Super Hero Taisen Z
to be added

Video Game appearances
Gokaiger had two video games released during its run, Super Sentai Battle: Ranger Cross and Kaizoku Sentai Gokaiger: Gathered Transformation! 35 Sentai!. Gokai Pink appeared with her team in both of them.
Super Sentai Battle: Ranger Cross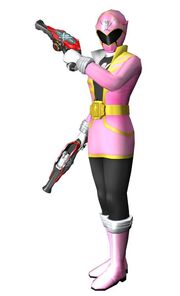 to be added

Kaizoku Sentai Gokaiger: Gathered Transformation! 35 Sentai!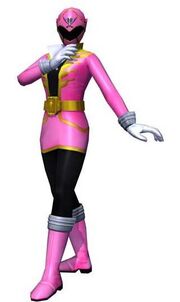 to be added

Gokai Pink
In battle, she duel-wields the Gokai Guns, often targeting multiple enemies with acrobatics; rather than concentrate both guns on a single foe like Gokai Green. Also, since episode 27, she has been using a backhanded grip on her Gokai Sabre.
Arsenal
Mecha
Main Article: Gokai Changes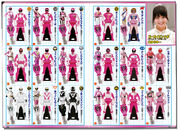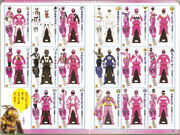 As a Gokaiger, Gokai Pink has access to the powers of any past ranger. While there's the obvious preference for pink or white, she has also been seen using other color rangers' suits and powers. She's also been known to take on powers of past male rangers, with the suit becoming a female version of its previous design.

NinjaWhite (Episode 21, 32, 44, 46, 51)

Weapons
Attacks

Hidden Style: Dance of the Paper Crane
GekiChopper (female version) (Episode 4, 7, 32, 33, Gokaiger vs. Gavan)
KuwagaRaiger (female version) (Episode 2, 24, 41, 47, Go-Busters vs. Gokaiger)

Weapons
Attacks

Super Ninpou: Shadow Dance
DekaRed (female version) (Stageshow)
DekaSwan (Episode 37, 41)

Swan Fantasy
Swan Illusion
GekiRed (female version) (Episode 2)
Go-On Black (female version) (Episode 3, 5, 199 Heroes Movie, 19, 36)
Go-On Silver (Episode 18, 41)

Weapons
Attacks

Jet Dagger
Dagger Acrobat (w/ Go-On Gold)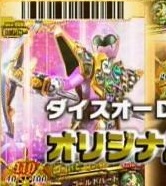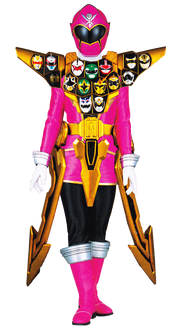 As shown in cards, Gokai Pink, along with the other Gokaigers, can use Gai's Gold Anchor Key to become Gokai Pink Gold Mode. However, as it is Gai's key, Gokai Pink's Gold Mode is identical to Gokai Silver's Gold Mode, with the 15 Sixth Rangers rather than her 32 counterparts.
Ranger Key
The Gokai Pink Ranger Key (ゴーカイピンクレンジャーキー, Gōkai Pinku Renjā Kī?) is Ahim's personal Ranger Key which allows her to transform into Gokai Pink. Whereas the keys of the 34 Sentai were created out of the sacrifice of their powers in the Great Legend War, the origin of the Gokaiger Ranger Keys is unknown, though it can be assumed AkaRed had a role in their creation.
As with the other Gokaiger Ranger Keys, this key is commonly used in the Gokaigers' Ranger Key-compatible arsenal and mecha for different functions and attacks.
This Ranger Key was turned into a Ranger puppet once, by Basco. Along with the other Gokaigers bar an incapacitated Marvelous, Ahim confronted and defeated the puppet Gokai Pink. Ep. 48: The Fated Showdown

Personality
She has "Geniality" and "Grace" that doesn't suit a pirate, making her quite different from her 4 shipmates. This has also caused people to underestimate her once or twice. If a person is in distress, she can't help but want to help them. However, because she is always looking for someone to save, she can be a pain in the neck for her teammates. She is also thrown off by Marvelous's personality and shows concern at times. Also, she loves tea.
Bounty
Behind the scenes
Portrayal
Ahim de Famille is portrayed by Yui Koike (小池 唯, Koike Yui?), who previously portrayed Yui Aoyama

in the Kamen Rider W

finale. Prior to the series, Koike stated she wanted to become the Shinkenger the most.
When Ahim disguised herself as Matsuri Tatsumi in Ep. 23: People's Lives are the Future of the Earth, she was portrayed by Kayoko Shibata (柴田 かよこ, Shibata Kayoko?).
As Gokai Pink, her suit actor is Mizuho Nogawa (野川 瑞穂, Nogawa Mizuho?), whose previous role was Gosei Yellow in Tensou Sentai Goseiger.
Dub names
In the Korean dub of Gokaiger entitled Power Rangers Captain Force, which aired in South Korea, Ahim as with the rest of the first five Gokaigers keeps her name (likely because they are not from Earth and thus don't have normal Japanese names), while her Ranger designation is Captain Pink.
Notes
She is the second Pink Ranger to have a Submarine for a mech, the first being Bouken Pink, who was coincidently in the last anniversery series, GoGo Sentai Boukenger.
Ahim is the only Gokaiger whose homeworld has been named, apart from Gai obviously, as he comes from Earth.

Ahim is also the only Gokaiger whose parents are seen.
Counterpart notes
Ahim shares a few things in common with 4 out of 5 of the other Gokaigers in terms of counterparts:

She is one of three Gokaigers to not have a counterpart from every previous Sentai team, the other two being Don and Gai.
She and Joe share the same amount of opposite gender counterparts (4).
She and Luka share the same amount of leader counterparts (2).
She and Don share the same amount of different colored counterparts (4).
Hers and Luka's Battle Fever J counterparts have had more than one civilian identity.

Even though Ahim is the feminine "girly-girl" of the group, 4 of her female counterparts (ChangePhoenix, Pink Flash, Time Pink and Bouken Pink) were tomboys.
4 of Ahim's counterparts (Black Bison, KuwagaRaiger, GekiChopper, and Go-On Black) are not only not Pink Rangers, but all four were originally male. Coincidently, these Rangers are also Additional Rangers.
6 White Rangers (Big One, ChangeMermaid, KibaRanger, AbareKiller, DekaBreak, and MagiMother) are not Ahim's counterparts.
Taiyo Sentai Sun Vulcan and Bakuryuu Sentai Abaranger are the only Sentai teams where Ahim does not have a counterpart (unless you count AbarePink for the latter).
Ahim has the least amount of replacement counterparts, as Miss America is her only counterpart that has had more than one civilian identity.
While NinjaWhite and TimePink are technically the leaders of Ninja Sentai Kakuranger and Mirai Sentai Timeranger respectively and Ahim's main Gokai Changes from these teams, Captain Marvelous continues to act as figurehead whenever the Gokaiger changes into either team.

Coincidently, both of these Rangers were the only female members of their team and their surnames have never been revealed.

Ahim is the only Gokaiger who does not have a counterpart with a lion-motif.
Ahim is the only Gokaiger who has turned into one of the other Gokaiger's counterparts more than they did. In this case, she has turned into Go-On Silver twice, while her true counterpart, Gai, never did.
Out of all the Gokaigers, Ahim has transformed into the most Extra Heroes, which happens to be all 4 female Heroes.
Ahim's most transformed Ranger form is a tie between TimePink and DekaPink with six changes each. Her most transformed White is a tie between NinjaWhite and, surprisingly, GekiChopper with five changes each. Of her Pink Ranger counterparts, she transformed into Pink5, Pink Mask, Pink Racer, GoPink, and Bouken Pink the least with one transformation each. Her least transformed White Ranger Counterparts are GaoWhite and White Swan with three transformations each.
See Also
Emma Goodall - Her Power Rangers counterpart.
External links