Don Dogoier
Talk

3
9,853pages on
this wiki

"Gokai Green!"
Don Dogoier (ドン・ドッゴイヤー, Don Doggoiyā), better known in the crew as "Doctor" (博士, Hakase) is Gokai Green of the Gokaigers.
Biography
to be added
Super Hero Taisen
When Marvelous takes control of Dai-Zangyack and leads them in battle against Kamen Riders, Don and Joe join with Daiki Kaito (Kamen Rider Diend), who is looking for Marvelous' treasure, and Hina Izumi, a friend of Eiji Hino (Kamen Rider OOO), in finding out. They eventually meet the crew of the time-travelling DenLiner. Kamen Rider × Super Sentai: Super Hero Taisen
Go-Busters vs. Gokaiger
to be added
Super Hero Taisen Z
to be added
Video Game appearances
Gokaiger had two video games released during its run, Super Sentai Battle: Ranger Cross and Kaizoku Sentai Gokaiger: Gathered Transformation! 35 Sentai!. Gokai Green appeared with his team in both of them.
Super Sentai Battle: Ranger Cross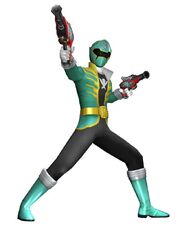 to be added

Kaizoku Sentai Gokaiger: Gathered Transformation! 35 Sentai!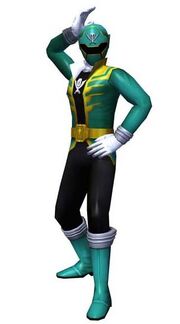 to be added

Personality
He is a pacifist who causes trouble because he wants to avoid fighting. When frightened, Don will cower behind either Luka or Joe, but mostly Luka, often resulting in an elbow to the stomach.
Gokai Green
Like his predecessor Shinken Green, Don possesses the least amount of skill, as shown from his falling from tall buildings. In battle, however, he duel-wields the Gokai Guns, focusing his fire on a single enemy in turn without the acrobatic flourish of Gokai Pink.
Arsenal
Mecha
Main Article: Gokai Changes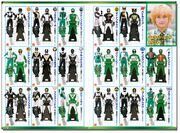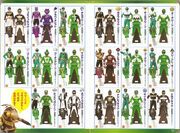 As a Gokaiger, Gokai Green has access to the powers of any past ranger. While there's the obvious preference for green or black, he has also been seen using other color rangers' suits and powers.

FivePink (male version) (Gokaiger vs. Gavan)
OhRed (Gokaiger vs. Gavan)
KabutoRaiger (Episode 2, 24, 41, 47, Go-Busters vs. Gokaiger)

Weapons
Attacks

Super Ninpou: Shadow Dance
DekaRed (Goseiger vs. Shinkenger/40)
Gosei Red (Episode 2, 48)

Transformation Devices
Weapons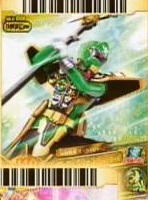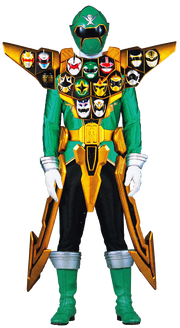 As shown in cards, Gokai Green, along with the other Gokaigers, can use Gai's Gold Anchor Key to become Gokai Green Gold Mode. However, as it is Gai's key, Gokai Green's Gold Mode is identical to GokaiSilver's Gold Mode, with the 15 Sixth Rangers rather than his 33 counterparts.
Ranger Key
The Gokai Green Ranger Key (ゴーカイグリーンレンジャーキー, Gōkai Gurīn Renjā Kī?) is Don's personal Ranger Key which allows him to transform into Gokai Green. Whereas the keys of the 34 Sentai were created out of the sacrifice of their powers in the Great Legend War, the origin of the Gokaiger Ranger Keys is unknown, though it can be assumed AkaRed had a role in their creation.
As with the other Gokaiger Ranger Keys, this key is commonly used in the Gokaigers' Ranger Key-compatible arsenal and mecha for different functions and attacks.
During the Gokaigers' Christmas Eve battle, Gai borrowed the Gokai Green Ranger Key and the Gokai Red key and merged them into the Gokai Christmas Ranger Key, allowing him to assume a special hybrid form of Gokai Red and Gokai Green called Gokai Christmas. Ep. 44: A Lovely Christmas Eve
This Ranger Key was turned into a Ranger puppet once, by Basco. Along with the other Gokaigers bar an incapacitated Marvelous, Don confronted and defeated the puppet Gokai Green. Ep. 48: The Fated Showdown

Bounty
His bounty is initially Z=100 but this is eventually raised to Z=1,000. Ep. 5: Judgement Pirates This is then raised even further to Z=5,000. Ep. 15: A Privateer AppearsAnd yet further to 10,000. Ep. 39: Why? We're High School Students And again to 300,000, boosted due to his part in slaying Damaras, which is the same amount as Gai's bounty. Ep. 44: A Lovely Christmas Eve
Behind the scenes
Portrayal
Don Dogoier is portrayed by Kazuki Shimizu (清水 一希, Shimizu Kazuki?). Prior to the series, Shimizu specifically said he wanted to be TimeGreen but not just because he liked Timeranger; his family was friends to the family of Masahiro Kuranuki, who portrayed Sion (the very first alien Sentai hero and another Green), and he wanted to do it in honor of him. Kazuki Shimizu also appeared as himself in A Day of One Hero, a mockumentary centering around his role as Don.
When Don and Luka switched bodies in Ep. 27: A More Than Usual Gokai Change, Don was portrayed by Mao Ichimichi (市道 真央, Ichimichi Mao?).
As Gokai Green, his suit actor is Yasuhiro Takeuchi (竹内 康博, Takeuchi Yasuhiro?), whose previous role was Gosei Red in Tensou Sentai Goseiger and later served as suit actor for Blue Buster in Tokumei Sentai Go-Busters.
Dub names
In the Korean dub of Gokaiger entitled Power Rangers Captain Force, which aired in South Korea, Don as with the rest of the first five Gokaigers keeps his name (likely because they are not from Earth and thus don't have normal Japanese names), while his Ranger designation is Captain Green.
Notes
Unlike the other main Gokaigers, Don is not the first Green who is an alien: he was preceded by Timeranger's Sion.

Amazingly, Kazuki Shimizu (Don's actor) is family friends with Masahiro Kuranuki (the actor of Sion), with both coming from the same town.

He is the only member of the core 5 Gokaigers not known to have lost a friend or family member. However, as it is known that his home planet was destroyed by Zangyack, it can be assumed that he did lose some friends and family.
Counterpart notes
External links
See Also
Jake Holling - His Power Rangers counterpart.