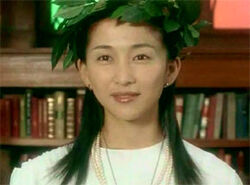 The Goddess of the Mini-Spring appears in the "Mahou Sentai Magiranger: Revealed! The Gold Grip Phone's Super Magic" special, a shapeless entity who takes the form of Miyuki Ozu. Kai's MagiPhone falls in the spring she protects and she offers him the Gold GripPhone or the Silver MagiPhone. She is nice and concerned; however, she tends to repeat herself.
Ad blocker interference detected!
Wikia is a free-to-use site that makes money from advertising. We have a modified experience for viewers using ad blockers

Wikia is not accessible if you've made further modifications. Remove the custom ad blocker rule(s) and the page will load as expected.