Gobies (ゴビース)
Character History
A Majin who can scan and copy the Gingaman's (and the Starbeasts, when giant) weapons and attacks into exact duplications. He was sent to kill the wounded GouTaurus, but due to Barreled Scholar Bucrates overhearing him, Bucrates beat him, and the Yartots, to GouTaurus. However, Copies became confused when the Gingaman performed each other's trademark attacks and/or wielded the other's weapons. After weakening him with this method, the Gingaman then activated Beast Armor Shine to summon the Galeo Pulsar to finish Copies off. Though enlarged, Copies is eventually killed in the confusion by GingaPhoenix using Steel Starbeast GigaRhinos' Gigantis Buster and then by Super Armor Shine Gingaioh.
Personality
to be added
Modus and Arsenal
Notes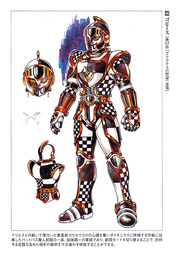 Portrayal
Behind the Scenes
Conception
See Also
References
Ad blocker interference detected!
Wikia is a free-to-use site that makes money from advertising. We have a modified experience for viewers using ad blockers

Wikia is not accessible if you've made further modifications. Remove the custom ad blocker rule(s) and the page will load as expected.