Ad blocker interference detected!
Wikia is a free-to-use site that makes money from advertising. We have a modified experience for viewers using ad blockers

Wikia is not accessible if you've made further modifications. Remove the custom ad blocker rule(s) and the page will load as expected.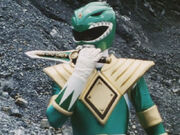 Go Green Ranger Go, The Mighty Morphin Power Rangers' Green Ranger theme is the first theme song given to a separate ranger aside from the consistent five Mighty Morphin Power Rangers. Used for the first two seasons of the show and discontinued with the start of the third, a first version plays during Rita's reign in the first season and a second version was used after Lord Zedd becomes the main villain in the second season. Both versions include Goldar as an antagonist in the track. The track was composed by Ron Wasserman (a.k.a. Aaron Waters). The sample of the song first appears at the end of "Return of an Old Friend, Part 1".
"White Light, Part 2" and "Opposites Attract" plays a third version of the song, identical to the second except replacing Green with White.
Lyrics
First Version
Go Green Ranger, Go
Go Green Ranger, Go

Goldar's gunna get you, tonight
Don't let Evil Rita, put a spell on your mind

Go Green Ranger, Go
Go Green Ranger, Go
Go Green Ranger, Go Go

Go Green Ranger
Go Green Ranger
Go Green Ranger
Go Green Ranger
Go Green Ranger
Go Green Ranger

Instrumental

Go Green Ranger, Go
Go Green Ranger, Go

Goldar's gunna get you, tonight
Don't let Evil Rita, put a spell on your mind

Go Green Ranger, Go
Go Green Ranger, Go
Go Green Ranger, Go
Go Green Ranger, Go Go

Episodes that played the song
Second Version
Go Green Ranger, Go
Go Green Ranger, Go

Goldar's gonna get you, tonight
destroy the power rangers and destroy the earth
Don't let Lord Zedd, put a spell on your mind

Go Green Ranger, Go
Go Green Ranger, Go

Go Green Ranger, Go Go

Go Green Ranger
Go Green Ranger
Go Green Ranger
Go Green Ranger

Go Green Ranger
Go Green Ranger

Solo

Go Green Ranger, Go
Go Green Ranger, Go

Goldar's gonna get you, tonight
send out the monsters to destroy the earth
Don't let Lord Zedd, put a spell on your mind

Go Green Ranger, Go
Go Green Ranger, Go
Go Green Ranger, Go

Go Green Ranger, Go Go

Episodes that played the song
Trivia
See also