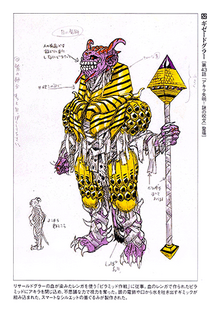 Gizee Doggler (ギゼードグラー, Gizēdogurā, 43): This pharaoh-like monster was used by Kiros to create a pyramid from dirt soaked with the Lethal Doggler's blood from its defeat three centuries ago. The bricks are destroyed by Akira during his momentary blindness, and the monster is defeated by Blue Mask and blasted by the Jet Cannon and then destroyed by Galaxy Robo.
Notes
His name is a pun on "Giza", fitting his egyptian-themed appearance.
Ad blocker interference detected!
Wikia is a free-to-use site that makes money from advertising. We have a modified experience for viewers using ad blockers

Wikia is not accessible if you've made further modifications. Remove the custom ad blocker rule(s) and the page will load as expected.