Giganoid #8: Jupiter (ギガノイド第8番 ジュピター, Giganoido Hachiban: Jupitā, 34): Planet-based, a large robotic creature with a model of Jupiter on its torso that acted as a virus to infect the Central Space Control Center, using its systems to alter Jupiter's structure into a sun and have it crash into the Earth.
Driven out of the space center by AbareYellow and AbareBlue and then killed by MaxOhJa. Named after Wolfgang Amadeus Mozart's 41st Symphony (the "Jupiter" symphony).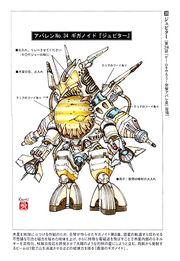 See also
Ad blocker interference detected!
Wikia is a free-to-use site that makes money from advertising. We have a modified experience for viewers using ad blockers

Wikia is not accessible if you've made further modifications. Remove the custom ad blocker rule(s) and the page will load as expected.