Giganoid #5: Hunting (ギガノイド第5番 狩, Giganoido Goban: Kari?, 19-20): Based on an anchor and various weapons, using its Shining Arrow attack. Killed by Abarenoh Rokkiru, and is later brought back in a new form, La Chasse Chapter 2 (ラ·シャッセ第2章, Ra Shasse Dai Ni-Shō) with a new gun weapon. It was killed again, this time by Killeroh.
Named after Joseph Haydn's 73rd Symphony ("The Hunt").
Gallery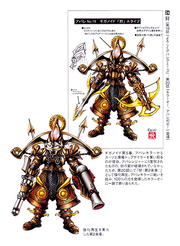 See Also
Ad blocker interference detected!
Wikia is a free-to-use site that makes money from advertising. We have a modified experience for viewers using ad blockers

Wikia is not accessible if you've made further modifications. Remove the custom ad blocker rule(s) and the page will load as expected.