Giganoid #2: Hero (ギガノイド第2番 英雄, Giganoido Niban: Eiyū?, 8): Created by Voffa in the image of the popular children's television character Igrec the Galaxian (possibly inspired by Ultraman). Destruction Messenger Jannu used it to steal the children's dreams when they despaired seeing their hero was a phony, thus destroying their hopes and dreams. Killed by AbareBlack with the Dino Thruster.
Notes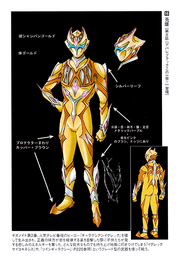 See Also
Ad blocker interference detected!
Wikia is a free-to-use site that makes money from advertising. We have a modified experience for viewers using ad blockers

Wikia is not accessible if you've made further modifications. Remove the custom ad blocker rule(s) and the page will load as expected.