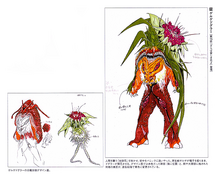 Geruge Doggler (ゲルゲドグラー, Gerugedogurā?, 15): This monster is used by Igam in a plan to cause panic. Its flower top Parasite Geruge (ゲルゲ Geruge, Geruge?) spreads its seeds and the lion-like Doggler causes them to mature into Deadly Flowers to attack humans. Only the Carol Love flower can kill off the Devil Flowers. After being defeated by Pink Mask and then blasted by the Shot Bomber, this monster was enlarged and destroyed by Great Five.
Ad blocker interference detected!
Wikia is a free-to-use site that makes money from advertising. We have a modified experience for viewers using ad blockers

Wikia is not accessible if you've made further modifications. Remove the custom ad blocker rule(s) and the page will load as expected.